The Wines of Tenerife in Spain's Canary Islands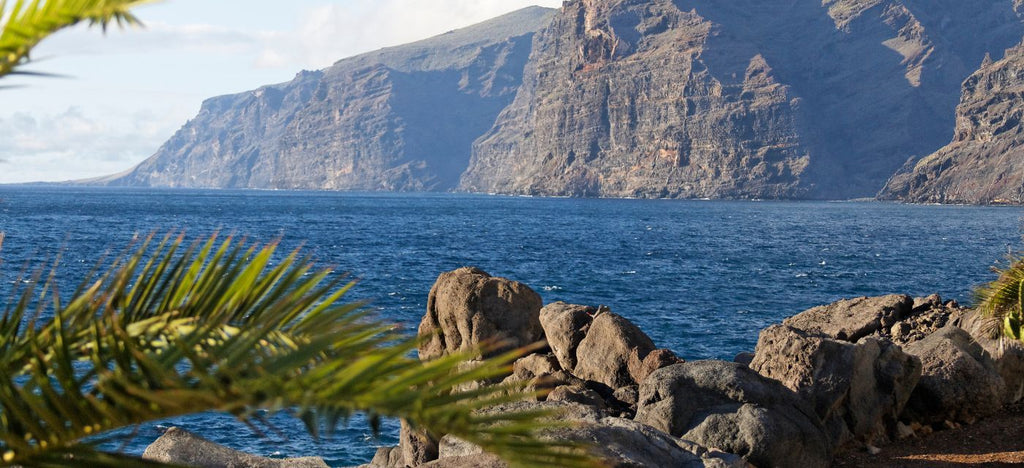 What do you think of when you picture the Canary Islands? Gorgeous coastline, sparkling sunshine and warm weather? Not a bad place to start. These volcanic islands off the coast of Morocco have been a popular vacation destination for decades, and rightly so. Something you might not know, though, is that the Canaries produce some of the most exciting and unique wines in the world.
Shakespeare himself name-dropped Canary Island wine in his 17th century play Twelfth Night, when a character asks, "Oh knight, thou lackest a cup of canary: when did I see thee so put down?" Tenerife wine was exported back to England as part of the era's historic trade routes. If Will referenced the wines way back in the 1600's, then you know they're something special. 
There are seven Canary Islands in total - Tenerife being the largest and most notable wine producer of them all. It's also home to the highest elevation vineyards in all of Europe. 
If Burgundy and Jurassic Park had a baby - it would be Tenerife. 
Stunning, death-defying coastal plots surround Mount Teide, a 12,200 foot active volcano whose summit is the highest point in all of Spain. This island is home to beaches, jungles, mountains and even desert. 
Envínate Wine's Taganan vineyards on the island of Tenerife
If you like low-alcohol, unconventional, delicate-yet-expressive wines with saline, volcanic and chalky aspects made by small, independent wine producers, Tenerife is a region to pay attention to. 
WHAT IS THE WINEMAKING CLIMATE IN TENERIFE AND THE CANARY ISLANDS?
With a latitude of 28 degrees, Tenerife is only 320 km away from the west coast of Africa. This brings hot and humid weather to the base of the island, as well as "trade winds" - permanent east-to-west blowing currents that flow around Earth's equatorial regions.
Tenerife is full of surprises and contradictions. The south of the island is tropical and beachy, and home to some of the most beautiful beach resorts in Spain. To the north, you'll need to pack a jacket and scarf to stay warm. Its different elevations, winds and temperatures create a kaleidoscope of microclimates, each contributing to their own magical grape growing conditions. 
The island has five "appellations," the name used for official wine-producing regions. Tacoronte-Acentejo, Ycoden Daute Izora, the Valle of Orotava in the north, Valle de Güímar in the east and Abona in the south of the island. 
A map of the various winemaking regions on the Island. Credit: WineFolly
The cooler temperatures to the north of the island mean vines can be planted up to 1,400 metres above sea level. In Tenerife's northwest, the humidity brought by the trade winds is noticeable. The south is intensely hot with little rain. In places like Vilaflor, vines are planted at 1,500 metres and on the foothills of Mount Teide, the climate is continental. 
WHAT SOILS DO GRAPES GROW IN ON TENERIFE?
You can't have a volcanic island without volcanic soils. The northern soils of Tenerife have ash and volcanic rock, and are rich in organic matter. These volcanic soils have great drainage, hold on to humidity and encourage the vines' roots to grow deep in search of water. 
The south of the island features "jable" - a white volcanic ash and sandy-clay soils that hold on to the little bits of rain that fall in the area. These unconventional soils, combined with the diverse microclimates around Tenerife's various appellations create a series of gorgeous terroirs that produce zippy, elegant and electrifying wines. 
Volcanic soil vineyards at the base of Mt. Teide, the active volcano on Tenerife
WHAT GRAPE VARIETIES GROW ON TENERIFE?
Before we get into the grapes, we need to talk about one the coolest aspects of Tenerife wine growing - the braided vine system aka "Cordón Trenzado" that is mostly found in the Orotava Valley appellation. 
These vines (up to 200 years old at times) are trained into gnarly, beautiful braids that remain low to the ground and close to the soils. It takes a ton of manual labour and skill to achieve this kind of vine system.
Traditionally, the cordón trenzado system allowed the vines to be relocated easily, allowing the soils under them to be used to grow other crops like potatoes. Mechanical harvesting is impossible with these crops, and so every grape that grows on them is hand-harvested.
The vines themselves are not planted on root-stocks, since the historic vine louse disease phylloxera that destroyed 90% of mainland Europe's vines never reached Tenerife. This means that many of the vines on Tenerife are 100 or even 200 years old.
Braided vines aka "Cordón Trenzado" are trained over decades and stay very close to the ground
The most widely planted grape on Tenerife is Listán Negro. It's been grown on the island for centuries and known for its high acidity and red fruit and smoky notes. Listán Negro wines get their unique character from the island's volcanic soil and pairs beautifully with paella, cheese and grilled proteins. 
Of the Listáns there's also Listán Blanco (aka Palomino Fino, the grape used to make Sherry), and Listán Prieto (the Mission grape aka País in Chile). Listán Blanco is round, full and citric with a really interesting minerality. 
Listán Prieto wines are light-coloured and crisply acidic, low in alcohol, with red-fruit flavours that Jancis Robinson calls "tart", and a fine texture that becomes even silkier  as the wine is bottle-aged.
Baboso Negro is another Canary grape, known as Alfrocheiro Preto in Portugal. There's not much more than 10 hectares of this grape planted in the Canary Islands. Genetically similar to Trousseau, Baboso Negro produces richly coloured wines with amazing freshness and fine grained tannins.
Listán Negro grapes growing on braided vines on Tenerife
WHO MAKES THE BEST WINES IN TENERIFE AND THE CANARY ISLANDS?
ENVÍNATE WINES: TENERIFE'S GREATEST EXPORT
Envínate is one of the most exciting wine projects in Spain, and the world. Founded by four friends - Alfonso Torrente, Laura Ramos, Roberto Santana and José Martinez - who met while studying enology at the University of Miguel Hernandez in Alicante. They focus on regions influenced by Atlantic climates: in Ribeira Sacra, and Tenerife in the Canary Islands, but also a small project in Almansa, west of Valencia. 
It's no exaggeration to say Envínate's Tenerife wines are out of this world. They work with three sites with very distinct microclimates on Tenerife. Organic farming, hand-harvested grapes and minimal intervention in the cellar. The whites showcase sea salt, roasted nuts and savoury, unami notes playing up a medium-bodied, glyceric mouthfeel. 
The reds are surprisingly light and fresh, comparable to Pinot or Nebbiolo in weight but bursting with sappy dark fruit, enhanced by secondary flavours that seem to combine soy and balsam with a distinct graphite mineral kick.
Shop our collection of Envínate wines
Laura Ramos, Alfonso Torrente, José Martinez and Roberto Santana make up the Envínate team
BORJA PEREZ: TENERIFE'S RISING STAR
This former race car mechanic is a rising star in the Canary Island wine scene. Inheriting the family wine business, Borja decided to take the seaside winery in a bold new direction. 
Refocusing on local varieties like Listan Blanco, Listan Negro, Marmajuelo, and Baboso Negro, Borja restored old ungrafted vines back to full health, setting up new plots in the process. Reviving the grapes, farming them organically and working them with skill in the cellar, Borja developed a reputation as one of the best viticulturists in the Canary Islands. 
The volcanic, maritime vineyards are in the rich and biodiverse DO appellation Ycoden-Daute-Isora in Tenerife's north west. The vineyards here range from low coastal elevations to around 800m on average, with the most extreme sites climbing as high as 1,400m!  The vines' proximity to the cooling winds of the Atlantic and its natural humidity produce an amazing yet challenging climate for wine production. 
Shop our collection of Borja Perez wines 
Borja Pérez poses with a glass of Baboso Negro wine at his Tenerife vineyard