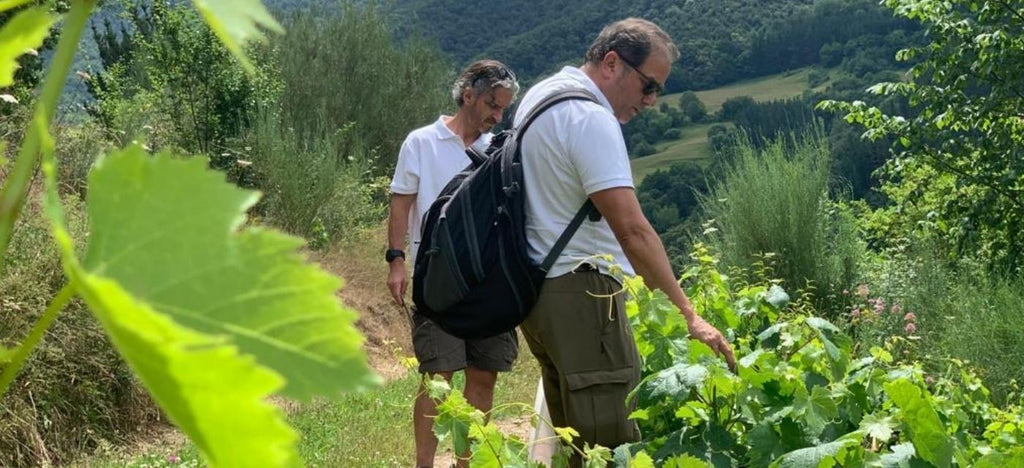 "Natural wine" - it's the buzzy term that's been popping up  around the wine world for some time now. A popular term for hipsters and wine drinkers new to the scene, the natural wine wave has also caused some debate in the wine community. 
Natural wines can be broken down into two categories. The first involves clean, precise, methodically made wine with perfect growing conditions that require no sulphites added. The second category is more loosely-made, flawed wine - where terms like "funky", "barnyardy" or "mousey " are used to describe the vintages. Both are popular in their own right, but it's easy to see the division amongst the wine lovers on this.

Goyo Garcia Viadero's white wines are fermented on their grape skins and have a darker hue 
Natural, no-sulphite-added wine may seem like the new-ish kid on the block, but people have been fermenting grape juice without any additives for thousands of years. Many think it's the modern, contemporary way to make wine but really, it's all about going back to the traditional way of doing things. 
OK SO, WHAT EXACTLY IS NATURAL WINE?
To understand natural wine, first we need to understand the basic principles of how wine is made. We can break down winemaking into two major stages: growing and picking the grapes in the vineyard, and fermenting the grapes into wine in the cellar. 
A few key things happen in both the growing and fermenting stages that make the wine "natural." In the vineyard, grapes used in natural wines are never sprayed with pesticides or herbicides. They're grown organically and when the grapes are ripe for the pickin', they're hand-harvested by the growers themselves, rather than a machine. 
When it's time to turn the grapes into wine, native yeasts are used for fermentation instead of "cultured" yeasts. Believe it or not, wild yeasts float around in the air in vineyards, like a kind of pollen. They stick to the grapes and stay on as they're harvested.

Comando G winemaker Fernando Garcia hand-harvesting grapes in his Sierra de Gredos vineyard

Wild yeasts are already stuck to the grapes when they're poured into the vats, which makes fermentation occur naturally. It's a phenomenon known as "spontaneous fermentation." Think of it like how kombucha is made. 
"Cultured" yeasts, on the other hand, are added later to the grape juice, artificially starting the fermentation process. This makes wines made with cultured yeasts conventional instead of natural. More on that later. 
Another key aspect of what makes wine natural in the cellar stage is the lack of additives put in by the winemakers during fermentation. No sugars, egg whites, acids or oak flavourings are used at all. 
Then come the sulphites, another divisive ingredient in the natural wine world. Sulphites are used to help preserve and stabilize the wine and help keep it tasting consistent from bottling to serving. Sulphites kill bacteria that exist in the wine that - while in bottle - can grow and overtake the taste and flavour of the wine. 
Cases of Cosecha's collaboration wine "Maggie" about to be shipped from Italy to Canada
At Cosecha, we look for wines that showcase grape variety and zone. An unprotected wine without sulphites can taste as the winemaker intended at bottling, but then months later the defect bacteria has taken over. 
Cosecha Imports' wines travel thousands of kilometres from our producers' wineries in Europe to our cellars here in Canada. When we're trying to keep wines fresh and perfect-tasting while crossing the pond, we make sure they are well preserved so that we bring the best-tasting wines to market.
If we were to operate in Europe, our portfolio would look the same, but we would bring more sulphite free, "risky" natural wines to market. It's one thing to send wine a few hundred kilometres to Barcelona or even Paris. Another is shipping the wines by boat across the Atlantic, 500 kilometres from the port of Montreal to Toronto,  and then back to market in Ottawa. 
DOES COSECHA IMPORTS CARRY NATURAL WINES?
We don't sell industrial wines that are manipulated in a laboratory , that's for sure. However,  to say we only sell natural wines wouldn't be accurate either. Our portfolio is a mix of low-intervention, biodynamic and organic wines, with a few no-sulphite-added wines from some incredibly talented natural winemakers. Let's get to know them.
GOYO GARCIA VIADERO: THE SPANISH GODFATHER OF NATURAL WINE
Goyo Garcia Viadero has been working in vineyards for over 50 years, and producing his own natural wines for over 20. He produces deep, layered, and elegant wines that remind us of some of the highest quality Rhone or Burgundy wines we've ever tasted. 
It's incredible how complex, multifaceted and bold his wines can be in tandem with so little intervention. Less is more with Goyo.
Goyo Garcia Viadero tending to his wild bush vines in the Valle de Liebena, Spain

All of Goyo's wines are de-stemmed by hand, fermented exclusively with wild yeasts, with absolutely nothing added during fermentation - including sulphites!  The wines are aged in old French barrels at an underground, century-old cellar in Gumiel del Mercado.

Shop Cosecha's collection of Goyo Garcia Viadero wines.
ESMERALDA GARCIA: NATURAL WINEMAKER AND LADY OF VERDEJO
The only ingredients in Esmeralda Garcia's wines are the grape and time. Esmeralda makes some of the most honest, forthright natural white wines in Spain, and possibly the world. She works exclusively with Verdejo, a Spanish grape often compared to Sauvignon Blanc, but it really deserves its own category. 
Esmeralda Garcia in her Rueda vineyards with old-vine verdejo


The vineyards she tends in Santiuste de San Juan Bautista, a small village in Rueda, have been in her family for centuries. The dry, sandy soils have allowed the vines to thrive on their original rootstocks for up to 210 years.
Shop our collection of Esmeralda Garcia wines.

When it comes to natural wine, there are a lot of different opinions out there. Comando G winemaker Dani Landi came to Toronto back in 2016 and was asked about what he thought of the natural wine movement. 
He responded, "What is natural about wine? There is nothing natural about it
Dani Landi when he came to Toronto in2016 at patria was asked what he thought abut the natural wine movement and what it means. wha t did he say "what is natural about wine? There is nothing natural about wine. It is touched by the hand of human beings. The grapes are reared by humans, pruned by humans, harvested, and then crushed and fermented into wine."