Spanish Wine Grapes 101: Grenache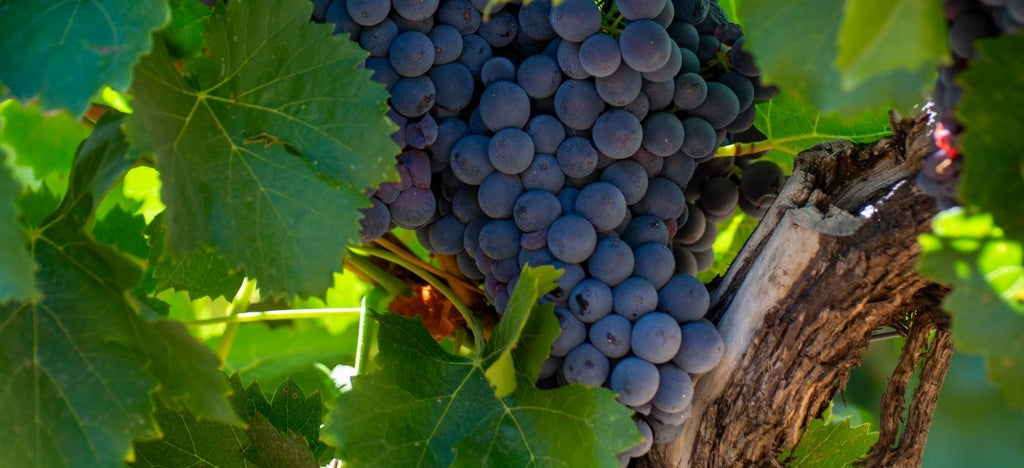 Grenache is a grape making a comeback. Over the last 10 years in Spain, the grape varietal has had renaissance at the hands of a new generation of winemakers. Reworking and restoring gnarled old Grenache vines around the country, these artisans are creating some of the most exciting and nuanced wines to come out of Spain.
Spain has more land dedicated to winemaking than anywhere else, and Grenache was widely planted throughout the country centuries ago. After the grapevine pest phylloxera tore its way through Spain's vineyards at the end of the 19th century, the hardy Grenache was replanted for its fertility and resistance to hot and dry conditions, helping re-energize Spain's wine industry.
Grenache is the quintessential grape of winemakers in several Spanish winemaking regions. It's known for its berry flavours of bright strawberries and raspberries and notes of white pepper, with some even saying that the wine has the unmistakable flavour of a fruit roll-up!
Some winemakers ferment their wines with stems looking for freshness and extra structure. When skilfully applied, this traditional system can add an extra aromatic, evocative dimension and a long finish to the wines. 
Grenache's renaissance in Spain has brought a renewed interest for the grape beyond traditional regions. Its role in blends has also been noted. In a time when trends point to gentle, easy-to-drink wines, a bit of Grenache in a blend can offer gentle, round, juicy palates with soft textures.
Get to know a few of our most loved single-vineyard Grenache wines from Cosecha winemakers Comando G, Bodegas Ponce and Joan D'Anguera.
Dani Landi and the Grenache of Gredos
Dani and Cosecha Imports founder Jason Axmith in the winery
Dani Landi has a deep love and passion for Grenache, which was long seen as a "workhorse" grape varietal by many Spanish winemakers. 
After tasting several incredible iterations of Grenache from Southern France and other parts of the world, Dani felt he could return to Spain to create his own Grenache wines that would rival the world's best, while showcasing Dani's beloved Sierra de Gredos' unparalleled mountainous terroir. 
Dani Landi's La Uvas de la Ira 
Winemaker Dani Landi represents the energy of the new Spain. Standing in contrast to the heavily oaked, and concentrated Grenache of the olden days, these wines are light, fresh, and vibrating with energy. 
Las Uvas de a Ira, or "The Grapes of Wrath" is a true crowd pleaser. Full of fennel, orange peel and very fruit-driven, with hints of pepper, mineral and faintly balsamic.
15 cases left 
$600.00 / case of 12
The Grenache Wine of 

Juan Antonio Ponce
Juan Antonio with his Grenache vines in Manchuela
Juan Antonio Ponce works in a lesser-known Spanish wine region called Manchuela, located inland from Valencia. His winemaking philosophy falls somewhere in the middle of cutting edge experimentalist and traditionalist, taking heritage grapes that have only been used for rustic country wines, and showing that with careful farming and skillful winemaking they can make complex, nuanced wines.

Ponce has a head start on making great wine, with varied, rocky terroir, old vines and a deep drive to preserve and elevate the land he inherited from his father. He works biodynamically and with minimal interventions (natural yeasts only). His wines are a far cry from the bulk wines mostly produced in the region. 
Ponce's La Xara is a Pinot Noir-like Grenache we absolutely adore. The purity and finesse of the Grenache is front and centre in La Xara, mixed with the ripe, red floral notes of raspberry and cherry fruit. It's another masterpiece from Juan Antonio Ponce, if you enjoy Rioja or other elegant, finesse driven reds, you are going to be wowed by the La Xara 2019
10 cases left 
$264.00 / case of 12
Cellers Joan D'Anguera and Generations of Grenache
The D'Anguera family has been on the same property with the same vineyard in Montstant since 1820. Needless to say, they are experts of their craft. With seven generations of winemaking in the family, they have perfected grape growing in their region.  
The
Joan d'Anguera
Vinya de la Gloria grapes grow on the l'Argatà estate on three terraces. These vines were planted over 50 years ago by the family's masovera, Gloria; hence the name of the wine. The Grenache grapes grow in loamy, calcareous and sandy soil and are grown using Demeter-certified organic agriculture, with harvest carried out manually at the perfect point of ripeness.
Joan D'Anguera and Jason harvesting Grenache grapes at the family winery
Elegant and powerful, lively, young and terrifically balanced. The palate has incredible intensity, power and balance, with strong identity, with notes of gunpowder, with minerality and subdued florality.
The tannins have a chalky texture, which provide mouthfeel, length and a tasty, salty finish.
It has great depth. Clean, precise and delineated. This is produced from old vines, 45 to 50 years old, planted on poor soils that produce very small yields of Grenache.
10 cases left 
$764.00 / case of 6